I swear I have been meaning to update more regulary but the days are skipping away from me.
This week, my sisters eldest son has been sick - so of course he has been staying with his Aunty :) He's such a sweetie and a really good kid, so it was no hardship on me here. We did have a bit of a scare early during the week with him, as we couldnt get his blood sugar to level. Poor sausage he ended up with ketones too! If you hadnt guessed he has diabetes - it just makes him extra special!
I actually have a lot to do tonight before putting the kiddies to bed, so I will quickly answer the SBQ suggested by Carol Question being: Do you have a favorite needlework tool that you like to work with? What is it and why do you like using it?
Apart from the obvious being my needle - my next pick would be my newly bought Q-Snaps - the ease of these are just wonderful, and I love being able to move the fabric around without having to baste it like I have to on my scroll rods. Its also easy to pick up and take anywhere! My sister has a case of envy at the moment because I purchased some LOL! so as she doesnt read my blog I feel pretty safe in saying she should have some early next week too!
Now I really got to run, but let me leave you with my latest on Watergarden.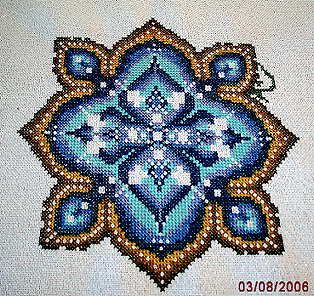 Stash pictures will be coming soon as well!