Im am so doing the happy dance right now!
For the last 6 months I have been unsuccessfully trying to hook up to broadband, with absolutely no luck at all. I tried so many providers, went through so much drama with Telstra in regards to acquiring broadband that I had literally given up on the idea that we would be able to connect faster than our pitiful 28kbps dialup speed. What's changed you ask? Recently our next door neighbours sold their home, and ever since the "sold" sign went up, I have been trying and re-submitting our B/Band order through my ISP. Late Friday night I noticed a difference in our connection speed on dialup - Mmmn I thought - could be something.... Today I checked my order status - and DSL is now fully provisioned for your number!!! OMG!!! you could have knocked me over with a feather! Hopefully by the end of next week (our new modem should arrive by then!) I will be cruising the net with our new Broadband connection at a whopping 1500mbs per second!! Whoooo Hoooo!
I am sooooo thankful to my neighbours who are moving! Its enabled me to have their port on the local exchange which has given me our beloved broadband :)
On to other news!
I posted stash pics on my last update, but forgot to post the pic of the ACEO that I purchased from HAED when they had their sale. She is called "Dreaming Mermaid" and is just divine! I have never purchased a HAED chart , but couldnt resist when I saw her in the quick stitches section;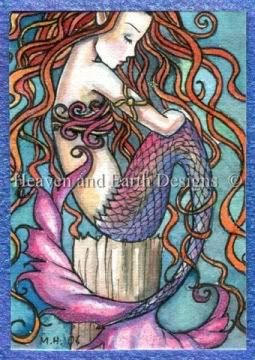 Isnt she beautiful? and the colours *sighs dreamily* I heard her sirens call and clicked on purchase :) I was really impressed with their prompt service too - within three hours I had this chart delivered to my email!
And last but not least, I forgot to answer this weeks SBQ from the 9th August (late I'm sorry!)
It was submitted by Ami and the question is:
For those of you who use hand or over-dyed floss, how do you store it?
Well since receiving my kits from European Cross Stitch and discovering the fantastic way they package their goodies - I have started doing the same - that being using the little floss-away baggies which are then attached to rings depending on their manufacturer. They then go into one of my lined plastic storage containers, which is then stored under my bed away from my little girls loving hands :)