My exchange piece has finally arrived! I can now reveal who my partner was... the lovely
Barbara
in the Netherlands.
As you all know, especially if you've read my last couple of blog entries, I have been anxious, terrified and silently pulling out my hair, whilst waiting for this to arrive. Its my first exchange ever, as well as my first attempt at finishing anything at all.! However, Im feeling fine and dandy right now - especially as Barbara loves it :)
I couldnt have even attempted it, without some help from my lovely friend Sharon, who emailed me some lovely finishing instructions.. Thankyou so much my friend! I really, truely appreciate it very much!
Barbara has sent me some wonderful comments, that have made me feel really comfortable about my first attempt at finishing. Thankyou so much Barbara for making this newbie finisher feel more at ease! But what is really great too, is that I was on track with what Barbara's likes were!! I was really nervous about this, cause I couldnt find a wishlist for Barbara!! I ended up stitching her the LHN and Crescent Colors Combo - "Watermelon" and finished it into a pinkeep. Barbara absolutely loves crows, (which truely I had no idea!) and on her blog, Barbara has stated that her wonderful hubby Niek said it looks like something she would stitch herself!!! So I am feeling pretty dandy right now :) I stitched it on a 28ct jobelan fabric called Tundra from Stitches and Spice. I also included some small gifties - Vicky Clayton silks, the LHN - Lucy Fairchild (Dear Diary Series) and some boomerangs for her kiddies to play with :) Barbara - they actually do work too!
Anyhow here is some pics... Barbara has much better ones on her blog though!
After all my fretting, I must admit that right now I have a bit of buzz on.. I feel relieved, excited and happy - did I mention relieved LOL!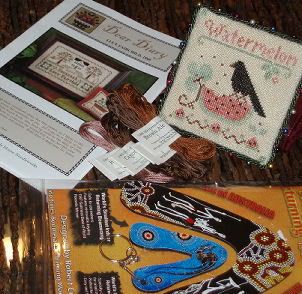 Now to answer the SBQ (Ive been slack here and missed a couple!)
The question is by Vash and is;
Which way do you stitch, i.e. do you stitch /// followed by \\\ on top, or the other way around \\\ followed by ///? Are you left- or right-handed and do you think that this affects the way that you stitch?
I stitch /// followed by \\\ and Im right handed. I dont think what hand you use, affects the way you stitch I think its more of a case on how you have been taught. My sister is left handed and stitches exactly the same way..
Today I have to finish up my fob exchange giftie, and then Im off to post it :) Now that I have had my virgin run out the way in regards to Exchanges, heres hoping I dont stress too much about this one!!
Happy stitching everyone!
Labels: cross stitch, exchanges, SBQ