Better late than never right!
These is what I received from Outi in regards to the Scissor Fob exchange in November! It was a Robins Next Exchange, and was so much fun!
Outi did this over one, in one of my favourite colors! Its just perfect, and even as I speak its attached to my scissors :)
She was very generous with me, and as well as my fob, I received some DMC Color Variations and a piece of linen banding! I loved absolutely everything!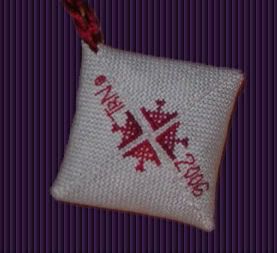 Outi, please forgive my lateness in posting these pics - but Im doing my best right now to play catch up!
I love everything about this exchange, and your stitching *drooling* is just marvelous! Everybody comments about this fob - and I show it with pride!
Labels: exchanges