My goodness, Ive been really slack with my blogging! Unfortunately though, I am having a few troubles with my adsl connection these past couple of weeks. Something to do with upgrading the infrastructure where I am connected.... needless to say my web time has been limited. If going by our esteemed telephone company - the repairs are supposed to be finished by the end of next week. We shall see! I DONT have alot of faith in Telstra at all.
In stitching news, I sent my exchange piece for SBEBB two weeks ago today - I havent had any word that its been received - so yes, I am worried. Actually Im trying not to freak out and run round the house like a chicken without its head. Im trying to stay positive and hoping that I receive an email from my stitching buddy very soon. Its so nerve wracking when sending off these exchanges!!! And.... to top it all off and to be perfectly honest, I am not happy how my Quaker exchange turned out. I think I should stick to what I know, and not attempt something new for someone else, before trying it out for myself!!
I attempted twisted cord *sighs* I dont know how successful I was with it, but hopefully my partner will let me know! I also had a slight mishap with piecing this one together but managed to (I hope) successfully fix it.
I have a Valentine exchange coming up - and its very nearly complete! I had a hard time deciding on what to actually do! but am happy with my choice! I think I will be stitching one of these for myself!
Chatelaine's I have started Mystery X and it is lovely! I only have the backstitching as well as rhodes stitches to do, and my first part is complete. Stay tuned a picture of this will be coming as soon as its finished. Im really happy with my fabric choice - Shimmering Jellybean from SMF - it looks gorgeous IMHO!
Watergarden - Im still plodding along.... Im itching to finish it! and have now started the golden gates and lovely greenery. The picture below doesnt do it justice at all!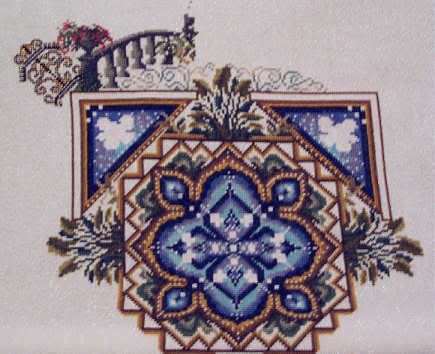 Feather Fairy from Mirabilla is getting there too!
I cant begin to tell you how much easier my new stand makes things! To anyone who has been contemplating purchasing a System 4 stand - dont hesitate! I take it everywhere I go! I just pop off my scroll frame, fold the stand down (its so easy), and then put it in my car. It fits in the passenger seat beside me and is just so darn handy!. I however, must make a carry bag for it, as I dont want it getting scratched. It *is* the best thing I have purchased to date!
Edited to add: Karen, the needlework system 4 is really sturdy even though light weight. I dont know if you have seen any pictures of it at all? You can adjust the angle from the base position, which is via a metal knob (for lack of a better word) you do have to make sure you tighten it correctly (it doesnt take alot of strength) and there it sits, adjusted perfectly to whatever angle you wish to stitch from. When adjusting the scroll frame, how it works again is via a metal knob that has teeth - on the scroll frame and one on the actually stand itself. You just turn it and let the teeth click in and tighten.. then away you go. I havent had any problems with mine at all.
Labels: Chatelaine, exchanges