and I definitely need one!
The kids are running me ragged, and I cant wait for them to go back to school next Tuesday!
I think the problem is, that usually we plan some outings so they are reasonable occupied. However, having five of them in total for four days a week, means we are housebound. To make matters a tiny bit worse, it has rained the last couple of days so of course they have been inside and underfoot.
Today is the first day this week that I havent had five kids to look after, and I feel wiped out. It was all drone work today, with the vaccuming, moping the floors, washing clothers and god forbid ironing! I also usually try and get my cleaning job done Friday nights (I clean factory units for STASH) but I can already tell, that its going to be Sunday before I get there - thank goodness I have the flexibility to do the cleaning when I want too.
I did manage to get a couple of more hours of Watergarden and I have to admit that I am loving it. It really *is* an enjoyable stitch.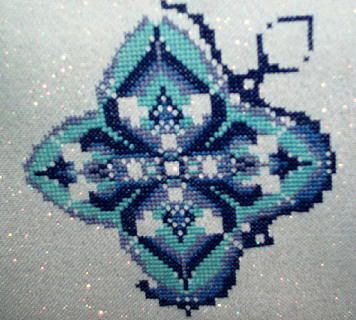 I am loving the way the mandala keeps popping out at me - its like its nearly lifting of the fabric. I have been doing my best to get a good picture of it, but somehow it still eludes me! What I have read that others have been doing is scanning the fabric - Mmmm I might give it a go!
On another note some more photos - one old and one new. Brainwave - I thought it might be nice to actually post a picture of myself, so those who comment on my blog could have some idea what I actually look like - and because I dont have a pic of me in my profile pic, I thought why not. Not to mention my youngest DD asked me to, because she took this picture :) I think she is better on the camera than me! Anyhow here is a pic she took of me the other night whilst I was trying to grab some free time on the pc.

This is the old one (it was still on my picture card) that I hadnt been able to upload until this week. My favourite picture of Sphinx that I took whilst on holidays in Egypt in 2004.
And on that note, I think Im off to have a glass of red, do some stitching and generally veg out in front of the tv.
Hope you all have a great weekend!