Took my camera into Jerry Gibbs Camera Place in Cannington yesterday - and yeppers just as I thought it is well and truly knackered. The cost of replacing parts basically entails buying a new camera - so as I was in the area I headed on over to Carousel and had a look in Myer. (Huge stock take sale happening there right now). I picked up an Olympus 6 megapixel camera for less than what I bought the 3 megapixel camera two to three years ago!
So another picture of my WG wip... I dont know if its the fabbie or if I just havent worked out the nuances of the new camera, but its amazing how many different colours the fabric changes too when taking happy snaps.
Anyhow below new pic - this time looking more blue!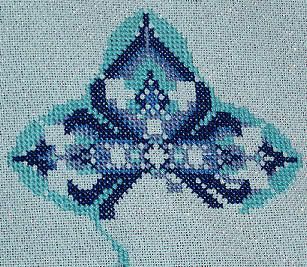 I think the colors of the silks however are more true this time around, and just picture it on start sparkly white!
As I am finally able to upload pictures to my PC I thought I would include one of my two girls. Isabella with her hair in a bun (6 years old) and my Sophie-Maree with the pigtails (5 years old). The Thursday before the school holidays started they had their concert at Johnny Young Talent Time. Both the girls take singing and dancing lessons, and at the end of each term they put together a little concert so the parents can see what they have learnt. The song they learnt was from "The Seekers" "Georgie Girl" and I think my DH and I also know all the words by now too!
The dance they did - which was so gorgeous! All these kids doing hip hop and only 5 - 8 years of age was absolutely adorable! was to "Michael Jackson's" "Blame it on the Boogie" Honestly I have never smiled so much in my entire life as I did that night!
Last night (and because it was the school holidays) we took them to see Ashtons Circus at Maddington Metro. The girls were in awe especially of the performing miniature horses and dogs! I had thought that the trapeze act would have been what they talked about the most, but nope it was the animals. The Ashtons are asking for support from local councils to be able to perform. Right now in Western Australia some of the local councils will not allow them to have their circus because of the ponies and dogs - I personally think its unfortunate, because every year they come to Maddington and have done for probably the last three years, and there is never any mess or animal left overs that I have seen.
And just because I can - one pic of my DH that has been on my camera since Easter! Now isnt he the most gorgeous Easter Bunny you have ever seen?