Hi all! Firstly I know its been a week since updating my blog - so apologies to all :)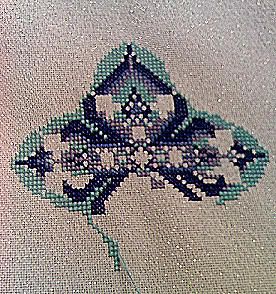 School holidays started last Friday, and boy oh boy I have had my hands full! My sister works four days a week, so as well as having my two girls at home, I've had my three nephews to look after as well. Five under seven - I'm sure you can imagine how its been.... I feel as though I have been blown over by a mini tornado I tell ya! Its been quite hard entertaining them, and they are at the age when they demand it LOL!
Needless to say its stopped my stitching goals in its tracks.
To date I've only put in 10 hours on Watergarden (actually just under) and have been religiously logging into a little notepad I have to keep track of how many hours this will actually take me. It is such an enjoyable stitch and the picture I have posted doesnt do it any justice at all.
Speaking of pictures - I apologise once more for the lack of quality - it is so much prettier in person! I did take some pics on my supposedly now fixed camera - went to upload to the pc and all I got was a grinding noise. I'm just not having any luck with the darn thing. Actually I am seriously considering updating it now, as all it is giving me is grief. Not to mention the fact that it is nearly five years old and only 3 mega pixels. I had to laugh - the picture I took was with my DH's mobile phone and it is actually 4.3 mega pixels! on a mobile!!!
Sharon re: blogger template.. What I've done with mine is cruised through some blogs, picked one I liked the look of and diddled with the html. Pannasmontata also has some great templates that are easy to change. If you do need some help, feel free to give a yell :) I have a graphics program that I play with consistently so if you want any type of background or header I would be happy to help out. Like I said just give a holler.
Tonight, for the next couple of hours at least.. Im going to read everyones blogs - head over to the Chatelaine EZ Board and catch up on all the gossip, and put in at least two hours of stitching whilst I watch House!
Im around home for the next couple of days, so I promise to update!