Ive just joined Renee's
"The Robins Nest"
and Becky's
"SBEBB"
Whoo Hoo! These two ladies are so very nice, and I am really happy to be part of their boards. Everybody has been so welcoming, and the information that is shared is truly amazing. These lovely stitchers are all so talented and their finishing *draw drops* is unbelievable! I feel pretty honoured to be part of both these groups - and I am so looking forward in starting exchange pieces with them!
With my new committments comes a change of stitching plans most definitely! Rotation, rotation, rotation will have to be the name of the game from here on end, and will try and work out some type of system. Watergarden will still be my main priority, its the only thing I have started for myself! but the exchange pieces will work themselves up to the top of ladder until they are finished. Im really like a dog with a bone in regards to committments and I cant settle until the job is done, or relax for that matter LOL.
Onto stash news - I have already received my first fabric from Silkweaves FOTM! Its actually the July FOTM and its such a pretty piece of material. Its called "Starquest" and its on a 28ct piece of Jazlyn. Ive never used Jazlyn so Im looking forward to stitching on it. Just by feeling it though its so smoother and pliable - very, very nice! Alot differnt to lugana thats for sure.
I also received my two charts from Dragonfly dreams. Dragonfly Dreams I can hear you say, you didnt mention them in your previous posts.... I know I have been really naughty, but I swear I only stopped in for a fat half of some raw linen, and then saw these two in the new arrivals and couldnt resist them - of course I had to get the speciality threads whilst I was there *nodding head and trying to convince herself she did the right thing*

Back to Watergarden - finally another update picture. After all my frogging (and dammit - just looking at this pic I've found some more!) its now progressing more slowly than usual. I admit to extreme frustration, and I absolutely abhore unpicking stitches! To top it off my kiddies have had this dreaded virual thingie this past week (yeppers they are still at home too!) that has been doing the rounds, and its really knocked them for six - my poor babies. Its unbelievable actually, my youngest daughters class is down to only 12 children from 25! so needless to say there hasnt been as much stitching time as there would have.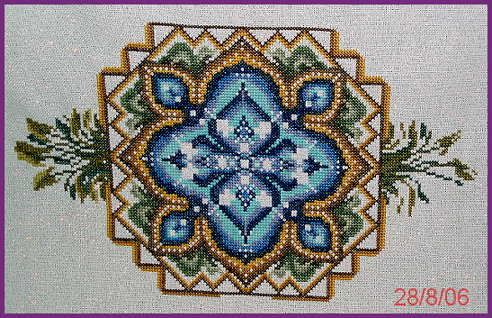 My frustration went up another level with WG when I found I had made a glitch. I didnt estimate the size of my fabric correctly *groaning* its the first time I have done this. Now dont get me wrong, I can fit the design on my fabric piece, but what I have done is instead of having a three inch margin on all sides, theres only going to be just over a inch *sighs* Im trying not to worry about it, and hopefully when I take it in to be framed, suggestions will be aplenty. Where was my mind that day????
Edited to Add:
If things go a bit wonky with my blog - its because I've swapped over to the new beta and Im slowly muddling through.
Cathymk - On Robins Nest Ive signed up for the scissor fob exchange, and on Beckys - the Needlework smalls. The Quaker exchange is tempting me too!